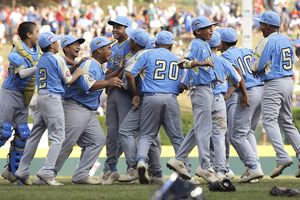 I was watching little league baseball today. It was the U.S. Championship for 12 and under on ABC that is on every year. I love watching it because it brings back great memories of playing little league baseball. The stage is huge with 20,000 people watching at the park and many more watching on National Television. It is almost not right to subject a kid to that kind of pressure.
So, Hawaii was playing Louisiana in the game that both decides who is the U.S. Champion as well as the one who gets to play the International champion. This year it is Mexico. The teams play 6 innings, so in the top of the six, down 5-1, Hawaii comes to bat.
The star pitcher for Louisana had pitched 5 amazing innings, but had to sit down because of his pitch count. (So, hang with me here...) Louisana brings in a relief pitcher, Gunner Leger. All he needs to do is get three outs and it is over. The first Hawaiian hitter gets a single, and the next a single, and over and over again, singles, walks, doubles and before you know, it is 5-4. Gunner gets another out and it still is 5-4. He walks a batter. Bases loaded, 5-4, 2 outs... They bring in a reliever and Gunner goes to 1st base. The new pitcher jams the hitter who hits a ball to first base (Gunner) who knocks it down and then loses it, and the tying score crosses the plate. Another single and now Hawaii has the lead, 7-5. Lousiana finally gets another out on Hawaii and gets one last chance to beat Hawaii.
The first guy up for Louisana is Gunner Leger who (I wish I could say hit a homerun) strikes out to go 0-4 (0 hits for 4 attempts). Two more outs and Louisana loses and Hawaii wins. It was an amazing game, but you have to feel for little Gunner Leger. I write all this because it is the same and opposite of the last story of Nastia, the gymnast.
Where she trained her whole life to win the gymnastic gold, and did, he trained his whole life and lost and lost hard. It is one and the same when your life is in this life... What good is it if you gain the whole world (or lose the world) and yet still, lose your soul? May our victories be used to bring glory to God and may defeats humble and soften and bring us back to God. May we learn to ride the ups and downs of this world because our mind and our heart are on things above. May we live differently because of our hope and confidence and may the things we encounter and experience always turn our eyes heavenward.